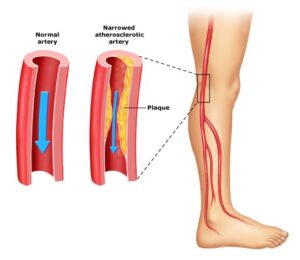 refers to arm or leg pain or cramping in the arms or legs that occurs with exercise and goes away with rest. The severity and location of the pain of intermittent claudication vary depending upon the location and extent of blockage of the involved artery. The most common location of intermittent claudication is the calf muscle of the leg, leading to calf or leg pain while walking. The pain in the calf muscle occurs only during exercise such as walking, and the pain steadily increases with continued walking until the patient has to stop due to intolerable pain. Then the pain quickly subsides during rest. Intermittent claudication can affect one or both legs.
 Pain in the Legs (Claudication) Symptoms
The severity of the peripheral artery disease, the location of the plaque, and the activity of the muscles determine the severity of symptoms and location of pain.

Pain and cramping in the legs is the main symptom of claudication. The pain can be sharp or dull, aching or throbbing, or burning.

Calf pain is the most common location for leg cramps.

If the blockage or plaque formation is farther up the leg, the pain from claudication may be felt in the thigh.

If the blockage is in the aorta (the main artery from the heart to the legs) then symptoms may include pain in the buttocks or groin or erectile dysfunction.
At Alimran Medical Center, we may recommend any of the following treatments
Regenerative medicine treatment (Prolotherapy)
Neurons stimulation
Repetitive Transcranial Magnetic Stimulation, rTMS
Transcranial direct current stimulation (tDCS)
Steroid injection
Trigger point injections

Epidural steroid injections
Chiropractic