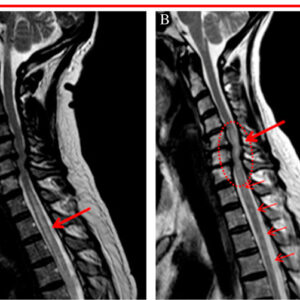 Transverse Myelitis (TM) is a disorder caused by inflammation of the spinal cord. It is characterized by symptoms and signs of neurologic dysfunction in motor and sensory tracts on both sides of the spinal cord.  The involvement of motor and sensory control pathways frequently produce altered sensation, weakness and sometimes urinary or bowel dysfunction.
There are four classic symptoms of transverse myelitis:
weakness in the arms/legs

sensory symptoms such as numbness or tingling

pain and discomfort

bladder dysfunction and/or bowel motility problems
The distribution of those symptoms may be symmetric or asymmetric affecting either legs, arms or both.
The word transverse indicates dysfunction at a particular level across the spinal cord, however this term may be misleading as there is not always complete anatomical damage across the cord, but rather focal inflammation that may produce asymmetric spinal cord dysfunction below the level affected while function above such level is normal. So we frequently prefer to use the term myelitis.
Causes of Transverse Myelitis
The cause of 60% of TM cases may remain unknown despite the presence of inflammatory mechanisms. However, the remaining 40% is associated with autoimmune disorders such as multiple sclerosis, neuromyelitis optica, systemic lupus erythematous, Sjogren's syndrome and sarcoidosis among others. The term idiopathic — meaning the cause is unknown- has been used in the past in situations in which the cause cannot be determined. However, the lack of demonstration of a causative disorder, mechanism or agent may be the result of failure of an early diagnosis or the result of causative factors that disappears quickly such as in cases of viral infections or post-infectious disorders.
TM is an unbiased condition, striking all age groups — from young children to the elderly — regardless of family history, gender or race.  In younger patients, transverse myelitis may be a first indication of disorders such as multiple sclerosis or neuromyelitis optica. In some patients, a spinal cord stroke or vascular myelopathy may be confused with TM, a situation that may lead to erroneous treatment approaches.
Symptoms
Signs and symptoms of transverse myelitis usually develop over a few hours to a few days and may sometimes progress gradually over several weeks.
Transverse myelitis usually affects both sides of the body below the affected area of the spinal cord, but sometimes there are symptoms on just one side of the body.
Typical signs and symptoms include:
Transverse myelitis pain may begin suddenly in your lower back. Sharp pain may shoot down your legs or arms or around your chest or abdomen. Pain symptoms vary based on the part of your spinal cord that's affected.

Abnormal sensations.Some people with transverse myelitis report sensations of numbness, tingling, coldness or burning. Some are especially sensitive to the light touch of clothing or to extreme heat or cold. You may feel as if something is tightly wrapping the skin of your chest, abdomen or legs.
Weakness in your arms or legs.Some people notice heaviness in the legs, or that they're stumbling or dragging one foot. Others may develop severe weakness or even total paralysis.
Bladder and bowel problems.This may include needing to urinate more frequently, urinary incontinence, difficulty urinating and constipation.
Treatment
Several therapies target the acute signs and symptoms of transverse myelitis:
Intravenous steroids.You'll probably receive steroids through a vein in your arm over the course of several days. Steroids help reduce the inflammation in your spinal column.
Plasma exchange therapy.People who don't respond to intravenous steroids may need plasma exchange therapy. This involves removing the straw-colored fluid in which blood cells are suspended (plasma) and replacing the plasma with special fluids.
It's not certain how this therapy helps people with transverse myelitis, but it may be that plasma exchange removes inflammatory antibodies.
Antiviral medication.Some people who have a viral infection of the spinal cord may be treated with medications to treat the virus.
Pain medication.Chronic pain is a common complication of transverse myelitis. Medications that may lessen muscle pain include common pain relievers, such as acetaminophen (Tylenol, others), ibuprofen (Advil, Motrin IB, others) and naproxen sodium (Aleve.)
Nerve pain may be treated with antidepressant drugs, such as sertraline (Zoloft), and anticonvulsant drugs, such as gabapentin (Neurontin, Gralise) or pregabalin (Lyrica).
Medications to treat other complications.Your doctor may prescribe other medications as needed to treat problems such as muscle spasticity, urinary or bowel dysfunction, depression, or other complications associated with transverse myelitis.
Medications to prevent recurrent attacks of transverse myelitis.People who have antibodies associated with neuromyelitis optica need ongoing medications, such as corticosteroids and/or immunosuppressants, to reduce their chances of more transverse myelitis attacks or developing optic neuritis.
At Alimran Medical Center, we may recommend any of the following treatments
Regenerative medicine treatment (Prolotherapy)
Neurons stimulation
Repetitive Transcranial Magnetic Stimulation, rTMS
Transcranial direct current stimulation (tDCS)
Steroid injection
Trigger point injections

Epidural steroid injections
Chiropractic
Prognosis
Although most people with transverse myelitis have at least partial recovery, it may take a year or more. Most recovery occurs within the first three months after the episode and strongly depends on the cause of transverse myelitis.
About one-third of people with transverse myelitis fall into one of three categories after an attack:
No or slight disability.These people experience only minimal lingering symptoms.
Moderate disability.These people are mobile, but may have difficulty walking, numbness or tingling, and bladder and bowel problems.
Severe disability.Some people may permanently need a wheelchair and require ongoing assistance with daily care and activities.