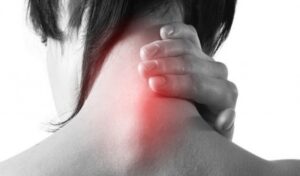 Most feeling in the back and top of the head is transmitted to the brain by the two greater occipital nerves. There is one nerve on each side of the head. Emerging from between bones of the spine in the upper neck, the two greater occipital nerves make their way through muscles at the back of the head and into the scalp. They sometimes reach nearly as far forward as the forehead, but do not cover the face or the area near the ears; other nerves supply these regions.
Irritation of one of these nerves anywhere along its course can cause a shooting, zapping, electric, or tingling pain very similar to that of trigeminal neuralgia, only with symptoms on one side of the scalp rather than in the face. Sometimes the pain can also seem to shoot forward (radiate) toward one eye. In some patients the scalp becomes extremely sensitive to even the lightest touch, making washing the hair or lying on a pillow nearly impossible. In other patients there may be numbness in the affected area. The region where the nerves enter the scalp may be extremely tender.
Occipital neuralgia
Occipital neuralgia may occur spontaneously, or as the result of a pinched nerve root in the neck (from arthritis, for example), or because of prior injury or surgery to the scalp or skull. Sometimes "tight" muscles at the back of the head can entrap the nerves.
True isolated occipital neuralgia is actually quite rare. However, many other types of headaches —especially migraines — can predominantly or repeatedly involve the back of the head on one particular side, inflaming the greater occipital nerve on the involved side and causing confusion as to the actual diagnosis. These patients are generally diagnosed as having migraines involving the greater occipital nerve, rather than as having occipital neuralgia itself.
Treatment
At Alimran Medical Center, we may recommend any of the following treatments
Regenerative medicine treatment (Prolotherapy)
Neurons stimulation
Repetitive Transcranial Magnetic Stimulation, rTMS
Transcranial direct current stimulation (tDCS)
Steroid injection
Greater occipital nerves injections

Epidural steroid injections