Whiplash is a neck injury due to forceful, rapid back-and-forth movement of the neck, like the cracking of a whip.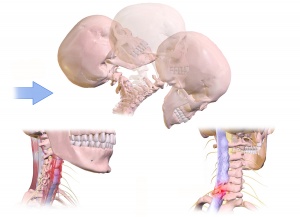 Whiplash is commonly caused by rear-end car accidents. But whiplash can also result from sports accidents, physical abuse and other types of traumas, such as a fall. Whiplash may be called a neck sprain or strain, but these terms also include other types of neck injuries.
Most people with whiplash get better within a few weeks by following a treatment plan that includes pain medication and exercise. However, some people have chronic neck pain and other long-lasting complications.
Symptoms
Signs and symptoms of whiplash usually develop within days of the injury, and may include:
Neck pain and stiffness

Worsening of pain with neck movement

Loss of range of motion in the neck

Headaches, most often starting at the base of the skull

Tenderness or pain in the shoulder, upper back or arms

Tingling or numbness in the arms

Fatigue

Dizziness
Causes
Whiplash typically occurs when your head is forcefully and quickly thrown backward and then forward. This motion can injure bones in the spine, disks between the bones, ligaments, muscles, nerves and other tissues of the neck.
A whiplash injury may result from:
Auto accidents.Rear-end collisions are a major cause of whiplash.
Physical abuse or assault.Whiplash can occur if you are punched or shaken. It's one of the injuries seen in shaken baby syndrome.
Contact sports.Football tackles and other sports-related collisions can sometimes cause whiplash.
Complications
Most people who have whiplash feel better within a few weeks and don't seem to have any lasting effects from the injury. However, some people continue to have pain for several months or years after the injury occurred.
It is difficult to predict how each person with whiplash may recover. In general, you may be more likely to have chronic pain if your first symptoms were intense, started rapidly and included:
Severe neck pain

More-limited range of motion

Pain that spread to the arms
The following risk factors have been linked to a worse outcome:
Having had whiplash before

Older age

Existing low back or neck pain

A high-speed injury
Treatment
The goals of whiplash treatment are to:
Control pain

Restore normal range of motion in your neck

Get you back to your normal activities
Your treatment plan will depend on the extent of your whiplash injury. Some people only need over-the-counter medication and at-home care. Others may need prescription medication, specialized pain treatment or physical therapy.
Foam collars
Soft foam cervical collars were once commonly used for whiplash injuries to hold the neck and head still. However, studies have shown that keeping the neck still for long periods of time can decrease muscle strength and interfere with recovery.
Still, use of a collar to limit movement may help reduce pain soon after your injury, and may help you sleep at night. Recommendations for using a collar vary though. Some experts suggest limiting use to no more than 72 hours, while others say it may be worn up to three hours a day for a few weeks. Your doctor can instruct you on how to properly use the collar, and for how long.
At Alimran Medical Center, we may recommend any of the following treatments
Regenerative medicine treatment (Prolotherapy)
Neurons stimulation
Repetitive Transcranial Magnetic Stimulation, rTMS
Transcranial direct current stimulation (tDCS)
Epidural steroid injections
Chiropractic