WHAT IS AN INTRATHECAL PUMP?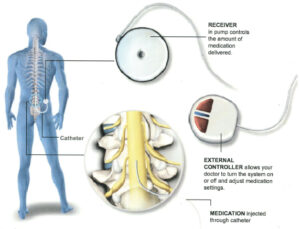 An intrathecal pump is a battery-operated device which delivers medication directly into the spinal canal. Intrathecal pumps may be used to treat chronic pain or spasticity, and is sometimes used to treat cancer-related pain.
The spinal canal contains a large amount of fluid (cerebrospinal fluid or CSF), in which the nerves bathe. By inserting a small tube which is connected to a programmable reservoir, medications such as pain-killers can be directly delivered to these nerves.
The reservoir (or chamber) is implanted under the skin of the abdomen or back, and can be refilled from time to time by inserting a small needle through the skin.
WHICH CONDITIONS CAN BE TREATED USING AN INTRATHECAL PUMP?
Chronic pain conditions

Cancer-related pain

Spasticity
WHAT ARE THE REASONS FOR SURGERY?
When medications and other treatments are no longer working well or their side effects are to severe, surgery may be of value.
WHAT ARE THE BENEFITS OF INTRATHECAL MEDICATION DELIVERY?
Effective pain relief

Reduced side effects (eg. drowsiness) of pain medications

Improved quality of life
WHAT ARE THE ALTERNATIVES TO SURGERY?
A number of medications may be useful for pain. These include the standard opioid and non-opioid analgesic agents, anti-inflammatory medications, membrane stabilising agents and anticonvulsants, as well as the most recent agent to be released- Pregabalin. Special medical treatments such as Ketamine infusions, local nerve and joint blocks, as well as other surgical options such as spinal cord stimulation should also be considered.
WHAT ARE THE AIMS AND POTENTIAL BENEFITS OF SURGERY?
THE GOALS AND POTENTIAL BENEFITS OF SURGERY INCLUDE:
Pain reduction

Decreased spasticity

Reduced medication requirements
The chance of obtaining a significant benefit from surgery depends upon a wide variety of factors. Your neurosurgeon will give you an indication of the likelihood of success in your specific case.
WHAT ARE THE POSSIBLE OUTCOMES IF TREATMENT IS NOT UNDERTAKEN?
POTENTIAL OUTCOMES OF NOT TREATING YOUR CONDITION INCLUDE:
Ongoing pain or spasticity

Reduced quality of life
HOW IS THE PROCEDURE PERFORMED?
An intrathecal pump is inserted via a simple and safe surgical procedure. A small incision is made in the back, and a flexible catheter introduced into the spinal canal. This is then connected to a battery-operated pump which is placed under the skin of the abdomen. Complications are uncommon, and may include bleeding and infection. The patient is discharged on either the same day or on the day after surgery.